As a result of the increasing demand for multifunctional façade elements, we offer a complete range of blinds or sliding panels made of aluminum framing. Moreover, there is a wide variety of aluminum and wood slats (either fixed or adjustable), as well as solar-resistant fabrics.
The slats can be placed at different angles and passage heights, depending on the desired shading and exposure. Furthermore, the sliding panels can be used with different sliding systems: individual, symmetrical, or telescopic, either with manual or motorized sliding control.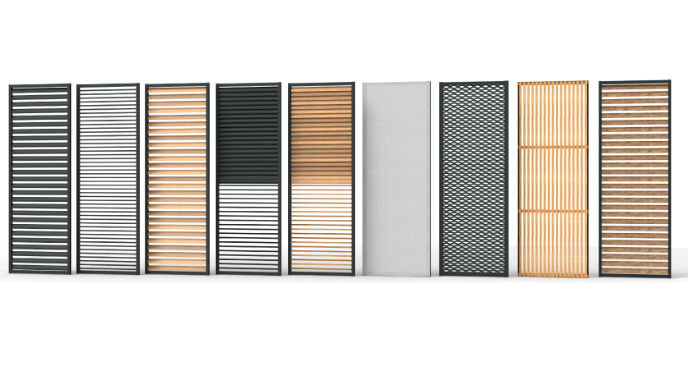 Renson Loggia sliding panel systems represent a good alternative to harmonize the architecture of a building façade. You can combine fixed and sliding panels so that the façade has a common aesthetic. This solution can be usually found in balconies of any size, where the panels run through an upper guide that carries the weight and a lower one that guides them. Both guides can be embedded in the construction to remain hidden. If there are several sliding panels, they can be stacked, thereby reducing the space they occupy.  
Advantages of the sliding panels 
Since they are industrially manufactured products, they have significant advantages over the traditional solutions: better mechanical resistance and versatility and the guarantee and certification of Qualicoat and Qualanod for lacquering and anodizing on aluminum slats, respectively. Usually, the slats are clipped to the frame to make the installation process quick and easy.